Antique bar brings the old in DeLand | News – Hometown News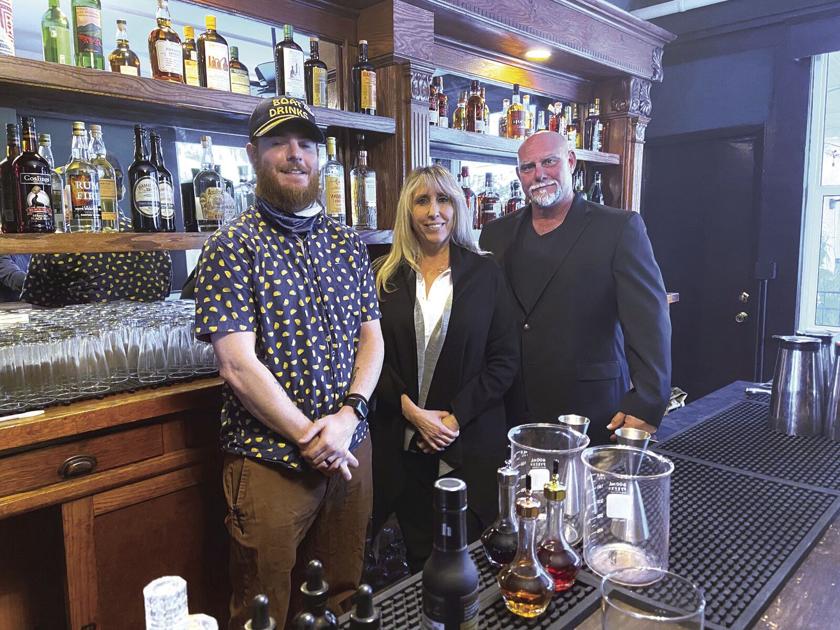 "A good cigar and a great sip" are on tap at Hemingway's 442, a new bar in the DeLand Hotel.
The hotel, which is on the National Register of Historic Places, houses 10 rooms and six or seven businesses.
Owner Ross Janke is partnering with Shari Simmans on the new bar. They have been working on the idea for a couple of years.
Mr. Janke scoured the country looking for historic bars. He said the back part of the bar that holds various glasses and high-end beverages from 1880; the side part of the bar where people sit dates to around 1895; and the front part of the bar is Brunswick from 1885.
"The Brunswick bar is the number one sought after bar for anyone doing antique bars," he said. "Al Capone would only put Brunswick bars in his homes. It was always my vision to get a bar in here."
Hours of operation are 4 p.m. to 10 p.m. Sunday through Thursday and 4 p.m. to 11 p.m. Friday and Saturday.
"It's exciting to see this vision come to life, to bring the community of DeLand something that is not here and in one of its oldest hotels in the community," he said. "It's going to be a destination spot for DeLand.
"This is a true 1880 bar," he said. "It's an antique authenticated by two experts who have their master's degrees in antiquities."
Ms. Simmans piped up: "This was a vision we have been discussing for two years – we need a speakeasy in here. Hemingway's 442 was a natural fit."
In addition to the antique bar, there is a 1935 cake chandelier, Mr. Janke said. He also pointed out the single rose in a vase will be changed out twice weekly.
Coincidentally, or not, from "The Old Man and the Sea" written by Hemingway in 1951: "A single rose can be my garden . . .a single friend, my world."
The name came about when Ms. Simmans was talking about Hemingway's Book Club. Mr. Janke said the name Hemingway's was her idea and he added 442, which is the address of the DeLand Hotel.
Robert Mercier, beverage director of the DeLand Hotel, said, "When you come in here, we want you to come into an experience. You're not just going into the bar down the street."
Mr. Mercier said he'll be serving up the likes of Don Q Gran Reserva, Habitation Yeier Privateer, Parker Heritage and the last five bottles in existence of Del Maguet Single Village Meical. Two ounces is $70.
"This is five years of me driving all over the state," he said of finding the just-right beverages to offer. "I'd start my day in DeLand go to St. Augustine and to Tampa."
Mr. Mercier, in the hospitality business for 20 years, said, "everything here is made with fresh juice and quality spirits heavily focused on classic cocktails."
"At the end of the day, no matter what level of bartender you are doing, there's a quiet humility of others," he said. "Anybody in this world can make a cocktail. It's the quality (of the drink) and hospitality, service to others."
Mr. Mercier said there will be live entertainment, including jazz and acoustic, in the back near the firepit. There is also a firepit near the front of the hotel.
Ms. Simmans said many types of cigars will be available, including Tatuaje Cojonu, Butera Maduro, the Cuban Romeo y Julieta and she is hoping for Opus X.
"The ultimate vision will be a high-end cigar bar," she said. "This is going to be the place for a good cigar and a great sip."