Conga Master Cándido Camero Dies at 99 – downbeat.com
---
By DownBeat
  I  
Nov. 17, 2020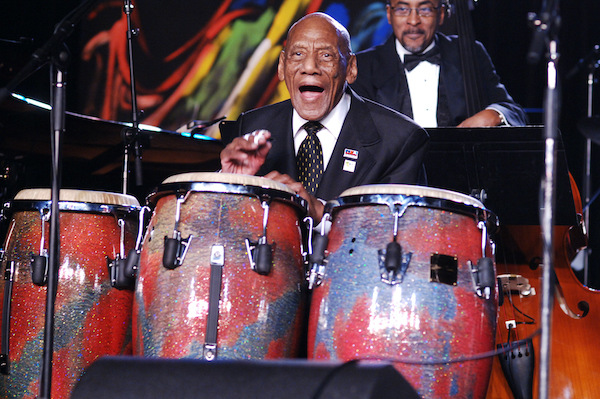 Cándido Camero, an NEA Jazz Master who was regarded as the father of modern conga drumming, died Nov. 7 in New York. He was 99.
"Cándido," as he was known by jazz aficianados, pioneered the use of multiple conga-type drums, first incorporating the slightly smaller quinto into his setup and finally settling on a three-drum arrangement that also included the larger tumba. He quickly mastered a technique of playing all three simultaneously and developed a method of tuning the drums to different pitches to create simple melodies and chords.
Born April 22, 1921, in Havana, Cándido began playing homemade bongos at age 4. He went on to learn flute, upright bass and tres, all of which he played while backing Cuban music stars in Havana nightclubs during the 1930s and 1940s, including the famous Cabaret Tropicana, where he performed with Mongo Santamaría. He made the switch to congas in the early 1940s.
Cándido first came to the United States in 1946 and settled in New York permanently starting in 1952. In addition to playing with American dance orchestras, he worked with jazz pianist Billy Taylor for a year at New York's Downbeat club, where he devised methods to apply Cuban rhythms to American swing and bebop, helping to lay the groundwork for a historic crossover movement between American jazz artists and Cuban musicians that continues to this day.
Cándido toured and record with some of the biggest names in jazz and Latin music, including Tito Puente, Machito, Duke Ellington, Charlie Parker, Miles Davis, Stan Kenton, Woody Herman, Lionel Hampton, Sonny Rollins, Wes Montgomery, Gerry Mulligan, Charles Mingus and Quincy Jones. He gained nationwide exposure via TV appearances on The Ed Sullivan Show and The Jackie Gleason Show.
The conguero was known for clean living, a topic he liked to discuss in his old age. "I have never smoked, not even a Cuban cigar!" he said in the May 2017 issue of DownBeat. "I never drank alcohol, not even beer or wine, and I've never used stimulants for false inspirations. … I may need help to get to my drums because of arthritis, and I may be approaching 100, but when I start to play, look out, because I feel like I'm 20 years old again!"
In addition to appearing on dozens of recordings and movie soundtracks, Cándido recorded multiple albums as a leader on various labels, including ABC-Paramount, Blue Note, Chesky, Tico and the dance music record company Salsoul, the latter of which produced disco-era hits for him. Cándido's most recent release was 2014's The Master (Chesky). He was subject of Ivan Acosta's acclaimed 2006 documentary Cándido: Hands of Fire, and in 2009, he received a Latin Grammy Lifetime Achievement Award.
During his 2017 DownBeat interview, Cándido took a long perspective on the music he has played since childhood. "The music never changes," he observed. "It's never going to change because tradition never changes. Since I was born and listened to music, the only thing that is different is the arrangement. The foundation never changes." DB
---
George Benson is the newest inductee in the DownBeat Hall of Fame.

Unreleased recordings of the Dave Brubeck Quartet—saxophonist Paul Desmond (left), pianist Dave Brubeck, drummer Joe Morello and bassist Eugene Wright—are set for release on Dec. 4.

Pianist Keith Jarrett is set to release the archival Budapest Concert on Oct. 30 through the ECM imprint.

Steve Swallow's early heroes include acoustic bassist Percy Heath.

University Of The Arts in Philadelphia is among the 212 schools listed in this year's Student Music Guide.