George Raymond Corey | Obituaries | smdailyjournal.com – San Mateo Daily Journal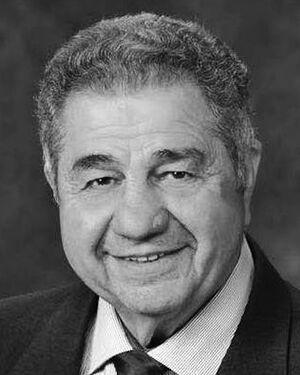 The world lost a remarkable man, George Raymond Corey, on December 30, 2020.George was born on June 28, 1933 in Ambridge Pennsylvania, one of five children of hard-working parents. He was a legend in Ambridge, excelling at school and in football. He was inducted into the Ambridge Hall of Fame.
His football prowess took him to the University of Michigan, where he played varsity running back for the Wolverines in the 1950s. His involvement with Michigan football was lifelong, as he was an active supporter of its program, and a super fan for the rest of his life. Everyone who knew George remembered how much Blue and Maize meant to him. He leaves many friends in the Ann Arbor community.
George served his country in the Air Force after graduating from Michigan, and after his discharge entered Hastings Law College of the Law in San Francisco. He passed the bar exam in 1964 and decided to start his own law firm. He teamed up with local attorney, Jack Bible, and opened the office of Bible & Corey in San Mateo County. One of his first "fees" was a tray of tomatoes from a grateful client; all that he could afford.
Of course, George became one of the state's finest trial lawyers. He built his firm into one of the most reputable in San Mateo County and the State of California. He represented Fortune 500 companies, and took on PG&E on behalf of fire victims. But throughout, he maintained the importance of good character and the firm's involvement in the community. Throughout his career, he was a friend and mentor to his partners, associates, and staff. He molded the firm to his own character and stressed the value of hard work and fierce advocacy, all while keeping your word, respecting your opponent, and conducting yourself ethically.
George was a great believer in the rights of the oppressed and in diversity. He worked for the civil rights movement in Mississippi during the 1950s, and represented demonstrators who were arrested while protesting discrimination in the 1960s. He believed in the promotion of women in the practice of law and their integration as partners in the firm. He was named as a "talking chief" for the Samoan community.
In keeping with this character, George was deeply involved in his community. He served as City Councilman and Mayor of San Bruno, and ran for Congress in 1979. He was deeply involved in politics, and had the ear of the Governor, as well as members of Congress and the Legislature. He was a friend of mayors and police chiefs throughout San Mateo County.
Football and cigars were George's passions. He hosted "Monday Night Football" dinners and Super Bowl parties for over 40 years. He was an aficionado of cigars, especially Cuban, and George and his friends would convene a "very important meeting" each morning on his bench in Millbrae, smoking a cigar and solving all the world's problems.
George served on the Board of Directors for The Legal Aid Society of San Mateo County and was named as its Chair Emeritus. He also served on the Board for Shelter Network (now LifeMoves) supporting homeless families in the Bay Area, and on the Board for Center for Independence of the Disabled.
George was preceded in death by his spouse, Ina Corey, in May 2020. He is survived by his children, Laura Corey, Jan Corey, and Karl Corey, grandchildren David Corey, Danny Corey, Thor Butler, and Devin Corey, siblings Meriam Phillips, Edmond Corey and Bill Corey, numerous nieces, nephews and great-grandchildren, and of course, innumerable friends and colleagues.
Funeral services are private, and a public memorial will be held as soon as circumstances permit. Donations are encouraged to be made in George's memory to The Legal Aid Society of San Mateo County.
Condolences may be sent c/o Chapel of the Highlands, 194 Millwood Drive, Millbrae, CA 94030.