Havana, Cuba | Sun Lakes Life | recordgazette.net – Banning Record Gazette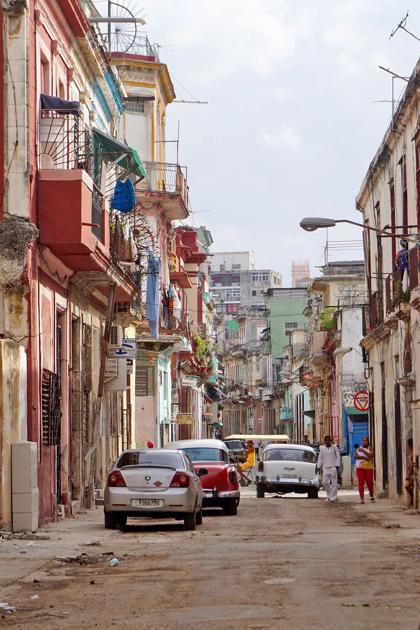 In November 2015, we traveled to Cuba, an island nation so logistically close to the United States, but worlds away in almost every other aspect.
Our tour began in Camaguey located in central Cuba.
Each day of our week-long tour we traveled west with Havana the last stop on our tour.
Throughout the week our Cuban guide told us repeatedly how excited she was to be able to show us her home city of Havana.
As we traveled along the Cuban National Highway, her excitement grew palpable as we drew nearer to Cuba's capital city.
We entered Havana by driving through the "Sugar Tunnel" which is 14 meters beneath the bay and was built by France in 1958, one year before the Revolution.
The tunnel acquired the moniker of "Sugar Tunnel" as Cuba paid France for the tunnel's construction with sugar.
As we exited the tunnel we caught our first glimpse of Havana, a city with a pulse and vibrancy that is uniquely Cuban. As we continued along Havana's Malecon (sea wall) we saw a picturesque fortress, El Morro Castle, guarding the entrance to Havana's Harbor, the crumbling buildings along the ocean front drive, and the United States Embassy with the American Flag proudly waving in the Caribbean breeze.
The following morning we began our tour of Havana which was founded in the early 1500s.
The first stop of the tour was at a Havana cigar factory. The factory was built in 1844 and produces 15,000 to 17,000 cigars a day. All of the cigars are hand rolled and one worker can produce 45-175 cigars a day based upon the type and size of the cigar and their experience.
The factory employs 500 workers, 60 percent male and 40 percent female, who work 8 hours a day, 5 days a week, and every other Saturday
The next stop was at the Museum of the Revolution which was the former Presidential Palace for Cuba's leaders until 1959.
Bullet holes are still visible in the palace walls and we viewed the yacht, housed in a glass structure, which brought Fidel Castro from Mexico to Cuba for the Revolution.
We continued on for a walking tour of Old Havana with a young man named Daniel who is an architect and very involved with the restoration of buildings in this historic section of Havana.
Old Havana was designated a UNESCO World Heritage Site in 1982.
Covering two square miles, Old Havana is very densely populated with more than 70,000 residents living within its boundaries.
A very high percentage of the buildings here and throughout Cuba are in a state of decay, but as Daniel explained, "If there is not enough food on your table or shoes for your children, maintaining your house is not a priority."
Daniel also said that tourist dollars are helping to restore and protect the hundreds of colonial buildings located in this historic section of the city.
The once beautiful architecture can still be seen and coexists with the decay of today.
While there, we saw the magnificent Old Havana Cathedral completed in 1777 and Cathedral Square.
We also enjoyed street musicians and performers and many of the characters found in this historic sector of the city who pose for tourists with their huge Cuban cigars.
On our second night in Havana we were free to select a restaurant and entertainment of our choosing.
Six of us chose to have dinner at a Russian restaurant located along Havana's Malecon.
The restaurant was bustling with customers, the food was delicious and a welcome break from typical Cuban fare.
After dinner we took a taxi to Old Town Havana for an evening of music at the internationally famous Buena Vista Social Club.
It was an unforgettable evening of Cuban music, mojitos, and dance.
We enjoyed the sights, the sounds, and the flavor of this famous venue and savored the music that was popular during Cuba's musical heyday performed by a group of aging Cuban musicians who are still at the top of their musical game.
Old Havana is even more charming at night and we enjoyed the dramatically lit San Francisco Plaza and the Church of Saint Francis of Assisi as we returned to our taxi.
On our last full day in Havana, our first stop was at the Colon Cemetery (Cementerio de Cristobal Colon) founded in 1871 and named for Christopher Columbus.
This Catholic Cemetery covers 138 acres and is considered among the top four or five cemeteries in the world for its artistically and elaborately sculpted memorials, mausoleums, chapels, and family vaults. Italian Carrara and Cuban marble, bronze, and Lalique glass adorn many shrines in Colon Cemetery and is a testament to the wealth of Cuba's past.
Our next stop on this brilliant morning was at Revolution Square where political rallies are still held and where Fidel Castro addressed Cubans giving political speeches lasting many hours to the more than one million gathered there.
The plaza is one of the largest in the world measuring 72,000 square meters and is a symbol of Cuba's history.
Another attraction of the plaza are the 1950s vintage automobiles that are brought to the plaza for tourists to admire.
We spoke with one of the proud owners who graciously invited us to sit in his 1951 Chevy convertible which still has the original factory engine and was in pristine condition.
A farewell dinner was planned for our last evening in Cuba. As we waited in the sultry heat, a fleet of 1950's vintage "Yank Tank" convertibles came roaring up the driveway of the hotel heralding their arrival with horns blaring.
Much to our surprise, the eleven beautifully maintained U.S. automobiles were there to transport us to our farewell dinner.
We sped through the streets of Havana, the wind blowing through our hair, in a 1956 yellow and white Ford Fairlane convertible.
What a fun and exhilarating climax to our time in Havana and Cuba.