Michael Jordan's Personal Dream Team Still Incudes Scottie Pippen – Sportscasting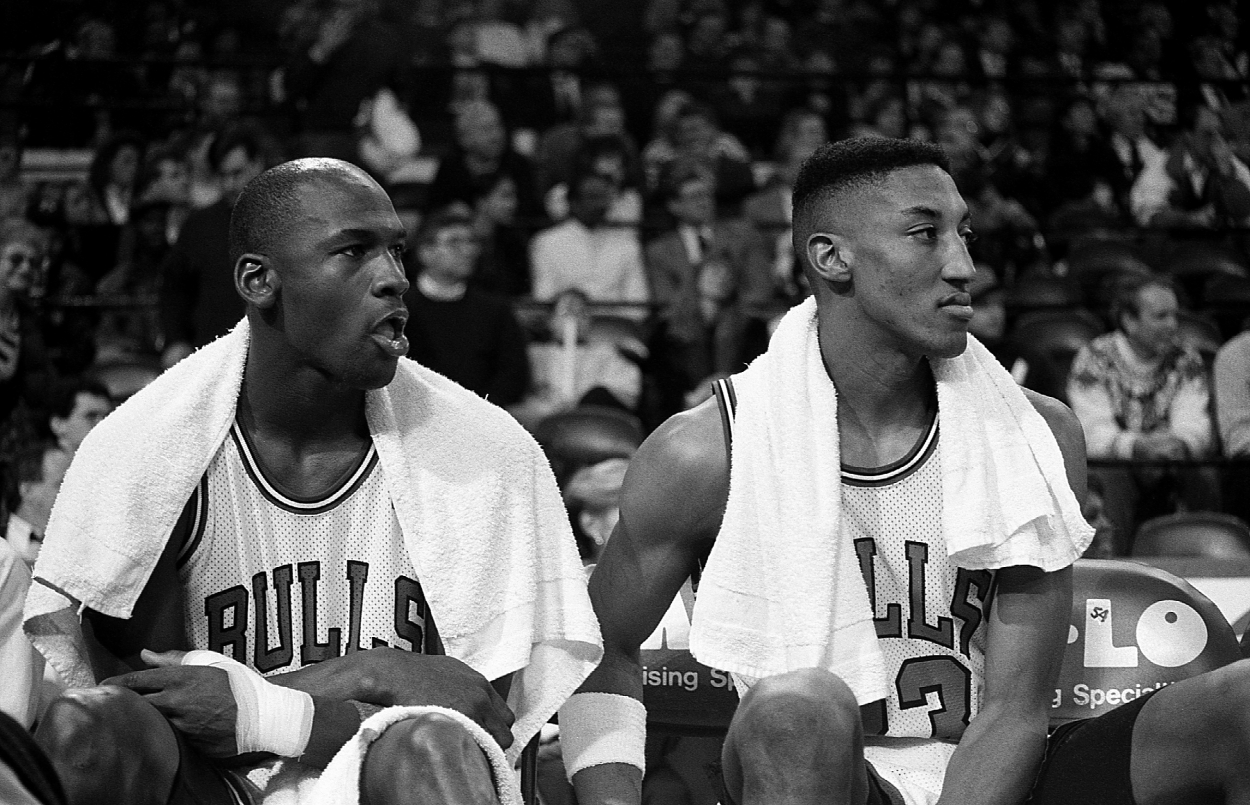 Prior to the 1992 Games in Barcelona, only amateur athletes could compete in the basketball competition at the Summer Olympics. When the International Olympic Committee began to allow professional players that year, it was a game-changer that gave the United States a big advantage over other countries at the time.
In '92, the U.S. assembled a squad known as the Dream Team because it included a who's who of some of the best NBA players at the time. The roster included the likes of David Robinson, Scottie Pippen, Charles Barkley, and — of course — Michael Jordan. Jordan has a personal "dream team" of his own, which includes one of his closest teammates from the Bulls dynasty.
Michael Jordan's personal basketball "dream team"
Jordan is well-known for his love of cigars, so it is appropriate that he sat down for an extensive interview with Cigar Aficionado. During the chat, the five-time NBA MVP was asked to "create the Dream Team of Michael Jordan," which would include himself and four players of his choosing at different positions.
It is important to note that this interview was from 2005 so Jordan's updated list might include some new names, like LeBron James.
Nonetheless, at the timeJordan took Hakeem Olajuwon at center because "he is so versatile." Versatility was important to Jordan because it was one of the factors he listed when choosing Larry Bird at power forward, who Jordan also praised for his demeanor and work ethic.
He took Pippen at small forward because his longtime teammate "is as versatile as it comes" in addition to handling the ball well and being a good defensive rebounder.
At point guard? "That's easy," says Jordan, who goes with Magic Johnson. "It's a beautiful thing to see a 6-foot 9-inch guy rebound the ball and start the break." Jordan added that he would pick Jerry West to come off the bench and replace himself.
Michael Jordan admits to biases
When choosing the members of the team, Jordan admits that he has biases because he "didn't play back in the days of Wilt Chamberlain, Bill Russell, some of the great stars prior to [him]" and he is friends with many of the stars who he played with during and his career and those who have made it to the NBA since then.
Jordan's most biased pick was probably Pippen, who played a significant role in earning the six championships that Jordan's Bulls won in the '80s. Sure Pippen is a great player who is in the Hall of Fame, but players who didn't play with him as part of the Bulls dynasty might have chosen someone else at power forward if put in Jordan's situation of choosing a personal "dream team."
Other players Jordan considered
RELATED: Michael Jordan Scored a Savage Takedown of PGA Champion Keegan Bradley
Jordan knows that he couldn't just pick one player at each position and be done with it, so he threw out names of other guys who he considered when thinking about each position to try to appease those who just missed his cut. Here are some of the alternates Jordan mentioned at each position.
Center
When picking Olajuwon as the center, Jordan admitted "that leaves out Shaq, Patrick Ewing. It leaves out Wilt Chamberlain. It leaves out a lot of people."
Power forward
Some of the power forwards Jordan listed off include fellow North Carolina alum James Worthy, who Jordan says he loves, as well as Karl Malone, Charles Oakley, and Barkley, "whom I adore and is a good friend."
Small forward
If Jordan didn't go with Pippen at small forward, "Dr. J [Julius Erving] is sitting right there." Dominique Wilkins could be an option for Jordan, as could Elgin Baylor, even though Jordan never played with him or saw him play.
Point guard
Johnson was the only player Jordan listed at point guard. When he began the pick by calling it "easy," there was apparently no reason to go with a list of other possibilities, showing the respect Jordan has for the longtime Laker.