Pedro Font: 1938-2020 – VideoAge International – videoageinternational.net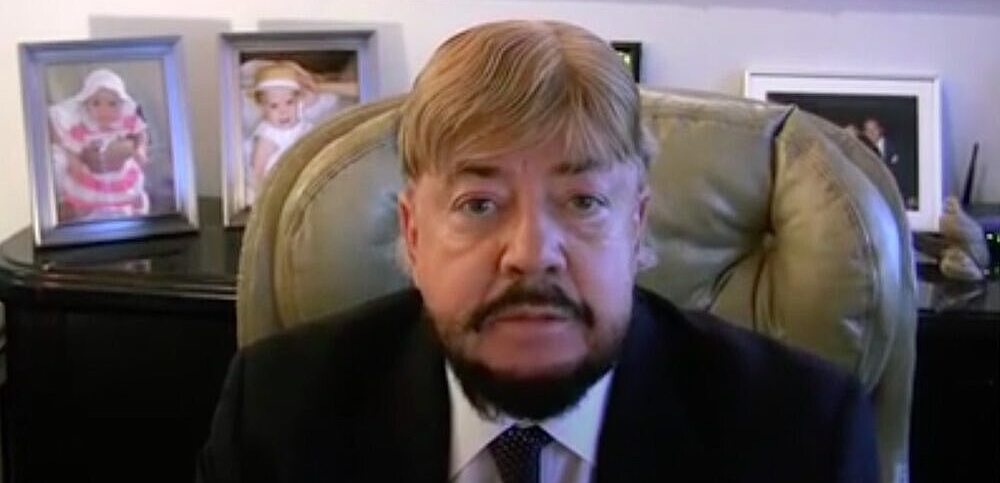 Until recently, his age was a well-kept secret, but what was well known about him were his peculiarities and his ingenuity. Pedro Font (pictured above), whose full name was Pedro Jesus Vidaurreta Font, died in Denver, Colorado on October 17, 2020 due to complications from a combination of Parkinson's and Alzheimer's. He was 82 years old. Font was a major force in the industry, who helped turn the Hispanic and multicultural markets into a multi-billion-dollar industry.
Font was, for lack of a better word, un personaje (a character), who regularly donned a showy yellow wig and a dyed jet-black beard, and often had an extra-long Cuban cigar between his teeth. He wasn't just a good film-TV businessman, he was a showman. Many industry insiders remember his extravagant opening parties at both the Monte Carlo TV Market and at MIP-TV in Cannes.
With Joseph Vaamonde as a partner, he opened Font & Vaamonde Advertising in New York City in 1979. It was sold to Grey Advertising in 1987. Font led efforts to encourage America's consumer-product giants to supplement their advertising campaigns for the general market with broadcast commercials and print advertisements aimed specifically at Hispanic consumers. After leaving the agency, he joined Protele, a subsidiary of Mexico's Televisa founded in 1971 that was in charge of selling its in-house produced programs internationally.
As an advertising executive, Font had been a good friend of the Azcarraga family, which controlled Televisa, and the family rewarded him first with an executive position at Protele. Later, when he founded Global Media Distribution in New York City in 1998, the family rewarded him with content rights for Televisa's products that he sold in selected territories like Asia, the Middle East, and Africa.
Controversy also courted him. According to a February 24, 2000 article in the Miami Herald (which, by the way, got his age wrong), he was linked to accused Cuban spy Mariano Faget, but Font steadfastly denied that he had ever shared secrets to Cuba.
"I challenge the Cuban government and any other person in the United States to show Pedro Font has passed information … to Cuba," he said to a Univision reporter at that time. Than he added, "That would be humiliating [because] I've raised my children to be anti-Communists."
Font, whose father died in Cuba before Fidel Castro's rise to power, fled to Miami with his mother and three sisters while still a teenager in the early 1960s. He became active in the entertainment business in Peru and Ecuador at the end of the decade.
According to other accounts, Font also did a stint in Brazil before opening an ad agency in Hawaii at the suggestion of the iconic U.S. automotive executive Lee Iacocca. As a true personaje, Don Pedro, as he was reverently known, was not hesitant to delight people with stories and to give advice. "Pitch to the top" was one of his favorites. Font & Vaamonde was successful because Don Pedro pitched the bigwigs, and, if they didn't listen, he literally banged his shoe on the table until they did.
Italian-American international TV distributor Emilia Nuccio recounted her first encounter with Font: "I got a call from a recruiter and he told me that he had a position for me at Protele. I interviewed with Font at 666 Fifth Ave, second floor, on November 11, 1993. I entered an office that seemed like a sanctuary, dark and elegant. Font was sitting at a huge table, with his cappuccino and his Cuban cigar. That day I had on heels and a modestly short skirt. Font liked that his employees were pretty and feminine, but I learned that later. He began to speak Spanglish, and said: 'I am offering you this salary and you have to answer me now.' I wanted the job, but not at that salary. I increased it by $10,000. He told me to show up at 8 a.m. on Monday. I spoke to him the last time on the phone last January. I was having lunch with Damaso Santana, my friend at Protele, and we talked about Font, so I said to Damaso, let's call him. Font answered and we thanked him for everything he had taught us, and we told him we loved him."
Please follow and like us: